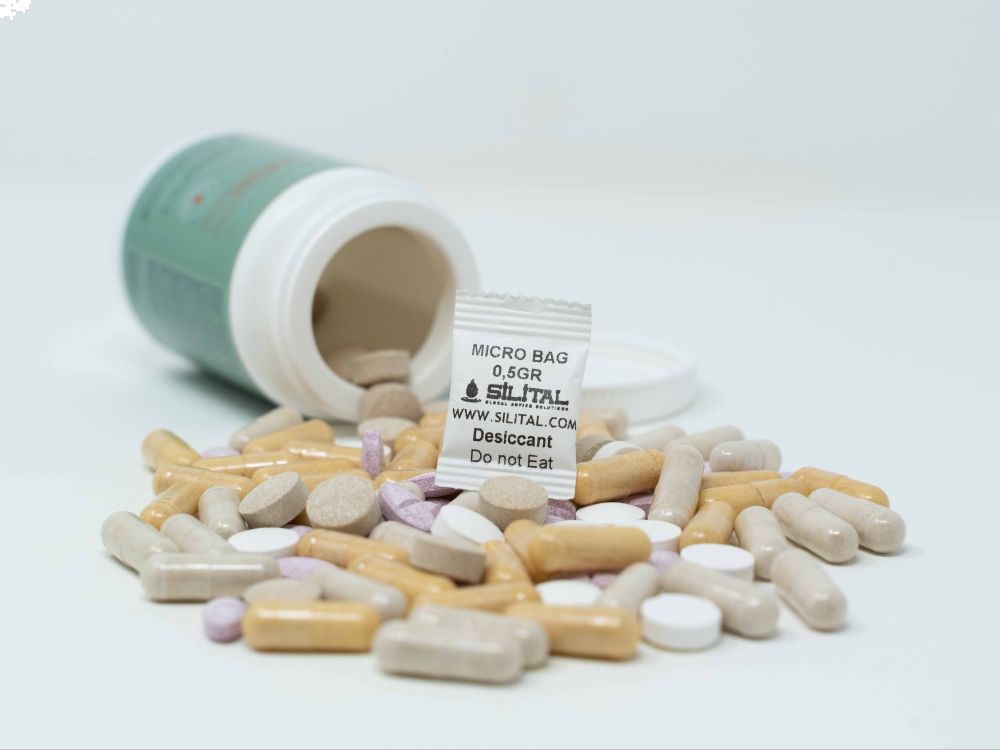 Dehydrating bags pharmaceutical industry
Look at the gallery
At Silital you can buy dehydrating bags for the pharmaceutical industry. These are small micro-bags whose silica gel content guarantees high absorbency without altering the weight and size of the product.
Silital bags are manufactured according to specific standards and comply with EU and non-EU regulations for production processes of products that come into contact with substances ingested by people such as drugs and food. (EC Regulation 2023/2006, MOCA, EC Regulation no. 1935/2004, EU Regulation No. 10/2011).
Each desiccant bag for the pharmaceutical industry has a dust-tight, cleanroom-ready Tyvek fabric casing. The content is silica gel and the bag is widely used for moisture absorption and protection of pharmaceuticals, diagnostics and optical material.
Usefulness of desiccant bags in pharmaceuticals
Silica gel bags have a granulate content that optimally absorbs moisture and protects the product from damage caused by dew and mould growth. The high absorption capacity of the bag proposed by Silital makes it possible to reduce the dew point of the packaging during transport and the drug thus retains its qualities and properties, which could be altered in the event of excessive humidity.
Not only that: the humidity in the air combined with that brought by the evaporation of the water contained in the cargoes creates real tropical microclimates in the containers, with the risk that this humidity penetrates the packaging of the transported medicines. This creates condensation that moistens, stains and irreparably damages goods, and Silital, with its dehydrating bags for the pharmaceutical industry, prevents this.
From Silital the best protection for medical devices
Medical devices and food supplements must be protected from moisture in order to maintain their chemical, physical and organoleptic characteristics.
Silital dehydrating salts, manufactured according to MIL D 3464E / NF H00321 / DIN 55473, are the ideal solution for protecting sensitive materials such as pharmaceuticals and vitamins from moisture. Our sachets are made of silica gel, a completely natural material that guarantees safety for both the user and the environment, as it is totally non-toxic.
Our bags allow medicines to be transported and stored safely, guaranteeing a longer shelf life.
As you can see, it takes very little to protect medicines from damage by condensation and moisture and to store and transport them while maintaining their characteristics and healing properties.