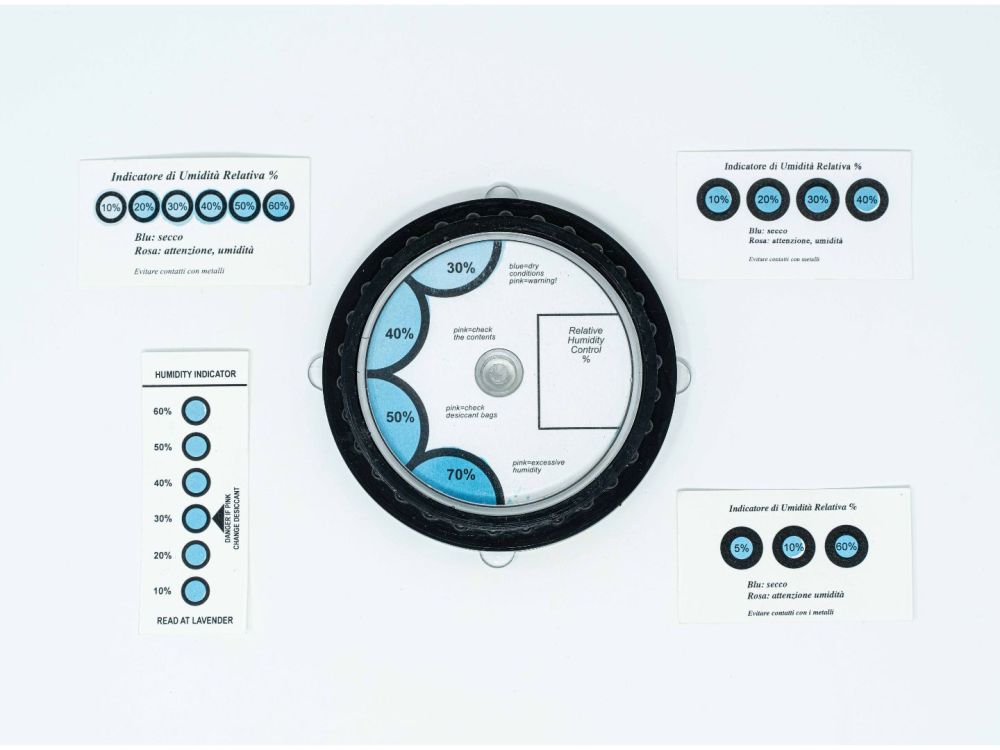 Label moisture indicators
The moisture plate indicators offered by Silital are indicators with reading spots that indicate the exceeding of a moisture value within a package.
In this case, the moisture indicator takes the form of a rigid cardboard plate with reversible reading spots. These spots are 'cobalt dichloride-free' and indicate the exceeding of a given relative humidity (RH) value through colour change. In this way, the moisture indicator can monitor a RH ranging from 5% to 90%, depending on the scope of application and requirements.
Contact us for more information
The advantage of the label is the fact that one can immediately see the humidity of an environment or packaging and when it exceeds a certain threshold, one can replace the bags of dehydrating salts contained in the container or product packaging and check that the quality of the goods has not deteriorated. This is why Silital recommends using the moisture indicators in conjunction with dehydrating products, with the guarantee of a product that is easy to use and to read as it changes colour when the different moisture levels indicated are reached.
What does the nameplate moisture indicator do?
The moisture indicator allows you to check the moisture content inside a package. The indicator is particularly suitable on barrier materials or other hoses containing machines, equipment or instruments that moisture must not attack.
Therefore, methods were developed to calculate the relative humidity of packaging such as the porthole moisture indicators and plate moisture indicators proposed by Silital and to be used to protect goods from mould and condensation and containers from rain effects. Contact us to find out how to protect goods on long journeys and for longer or shorter storage periods.
Discover how to customize this product
Applications
Latest news